Not everyday you can have an interview with a hard rock's legend as Dave Meniketti is, of the Californians Y&T, a band that he leaders since the start over 44 years, not because he is not accesible, it is because his agenda is always full. So from Maxmetal we did not hesitate about doing him an interview and here you have this extense and deep interview with the leader of the mythics Y&T.
-Hello Dave, it's a total pleasure to make you an interview, you're such a legend and one of the best guitar players in the world. How are you? How is it going the European Tour ?
Now that I am finally getting to these questions the tour has ended a few days ago. It was a very successful tour and we had many memorable nights.
-How were your first years playing guitar?
I started a little later than some, at the age of 16. I took to the guitar very quickly and never put it down except to do my homework. I even would sit and watch TV, trying to play along with any music I heard. I was in love with guitar and there was nothing more important to me than to play it and be moved by it.
-Which tips would you give to a kid that's starting to play guitar?
Play as much as you can with other musicians, jam a lot, and hang around other accomplished guitarists. You will learn so much from opening your mind to new experiences of playing and listening.
-How it was playing in the Montrose reunion?
That was very special.  Montrose was a very popular band for me and inspired all the band members of Y&T when the first 2 records came out. So, to have the opportunity to represent Ronnie with the other original band members was like a dream. Most of all I wanted to make Ronnie proud by playing how he would play things, using my technique, of course.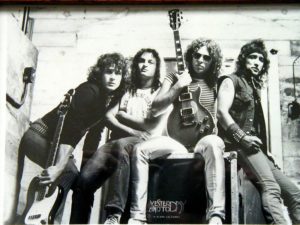 -What can you explain me about the documentary about all the Y&T 's History?
There is a long and rich history to this band, with many great moments and tragedies over 43 years. It has become a very large chore for the documentary team to put all the pieces together to tell the story in the best way. Over 100 people were interviewed for this documentary and there are hours of old and new video footage that needed editing, etc. It's a huge job to take on. We all hope this can get finished and released by mid 2018. It should be fun and interesting to watch.
-How did you end doing backing chorus for Cher and songs for commercials?
I got the opportunity to sing on a Cher record through my A&R person at Geffen, John Kallodener. He made that happen when I was in New York for some record business.
For the short few years that I sang TV commercials, I got started through Stef Burns, a former Y&T guitarist. He was playing guitar on commercials with a song writing duo that wrote for many large companies. One time, they mentioned they were looking for a rock voice, he suggested they bring me in to try out. They liked me and used me for about 2 years on many TV commercials. It was a fun and relatively easy work. It turned out to be a very exciting side job that took little time away from my song writing.
-Have you ever had any proposal of playing in other bands? They were rumours of proposal for playing with Whitesnake, Queensrÿche or Van Halen replacing Sammy Hagar
I was asked to possibly join Whitesnake, and was asked in 1982 to join Ozzy's band. Also in the early 90s I had an opportunity to join up with Peter Frampton, but turned the offer down because it came too soon after Y&T had broken up briefly and I was not ready to jump into something else at that time. As far as Van Halen, I was never asked to sing with them, this was just talk on the internet.
-Do you have any plans to tour as Meniketti?
I would like to do one day do this again. Y&T is so busy touring that it may not happen for a long time, so I asked if Y&T would allow me to play a few of my solo songs in Y&T recently and it came off well.
-How it was to sing in Hear n Aid?
It was an awesome experience that I will never forget. So many popular rock stars of the day crammed into 1 studio with tons of press and the mastery of Ronnie Dio producing. Absolute madness, in a good way, and an amazing night singing the group chorus and watching as some skilful guitarists played their solos. The next morning, I sang the lead vocals at 9am when no one was there but Ronnie, a few engineers, a small camera crew, Neal Schon, and Rob Halford waiting in the hallway to sing after me. Fun times.
-Which is your favourite song to play in live?
That changes with every performance, but I especially love playing «I Believe in You»,  «I'll Cry For You», and «Winds of Change».
-How it's the daily life of Dave Meniketti on tour and out of tour?
On Tour it's all about trying to get a good night's sleep for my voice after a show, then long travel days, sound checks, interviews, dinner, the show, meet and greets, then all over again the next days.
Off Tour I spend most of my time divided between working in the office helping the band's business, and our wine business, hiking in the local mountains, and watching a movie almost every night, if time permits. Of course on days off, I enjoy hiking and wine tasting trips.
-What feels Dave Meniketti every time he's on stage?
Most nights I feel playing on stage completes my life. Playing music is such an emotional thing for me that I feel like I have given it my all at the end of every show. It's a great experience that gives me a happy feeling during, and especially after each show. A sense that I really accomplished something great. It keeps me young and happy!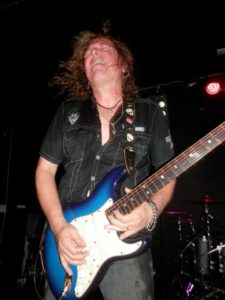 -And what did he felt the first time ever on stage?
It's hard to remember that long ago, but I think I was very nervous, but after a few songs I let the music transform that fear into something that made me feel like I was doing the right thing in my life. Kind of hard to explain.
-After all this 43 years playing with Y&T how would you evaluate the Y&T History and your own ?
A long, hard, and exciting first half that has developed into a really awesome, mostly less stressful last few decades. It's all about doing what we love all the way through, but I feel the last 15 years we have really been enjoying ourselves because we don't have the record company pressures and hit single worries we had the first 2 decades. Just a very cool time to be alive and playing music.
-What will we be of Y&T in the future?
I have no idea other than what we are doing right now. I can see this same pattern going on a very long time into the future for me…I can only hope.
-How it came the opportunity to play the AC/DC's song «Night Prowler»? Did you record it with Y&T or with other musicians? And why did you choose that song?
I was asked to do that song by Simon Wright, who played drums with AC/DC in the 80s. He gave me the track and I recorded the guitar solos and lead vocals at my studio and sent them back to be mixed in with the other musicians that had already played on the track. No other Y&T guys played on that song with me.
-We've lost recently Malcolm Young from AC/DC. What can you say about him? Do you were friends?
't know him very well, but we had spent a bit of time around him over the 3 tours we played with them in the 70s and 80s. Especially on the 1982 Europe and UK tours we played with them. We were invited to join the band backstage after the shows many times to hang out and have fun talking with the guys. My sense of Malcolm was that he was very serious about the business of the band and that his opinion was likely the final decision maker. He seemed to us that he was more like the band manager of all the musicians. I could imagine that many decisions were made by him guiding their career.
As a musician, he was without peer. An absolutely one of a kind rhythm guitarist with a style and sound like no other. I believe he, more than anyone else in the band, was hugely responsible for the AC/DC sound. He was a true groove master.