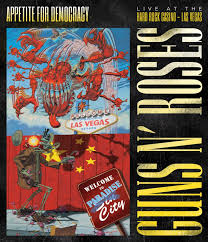 GUNS N' ROSES – APPETITE FOR DEMOCRACY
INTERSCOPE/UNIVERSAL
7 / 10
Appetite for Democracy 3D Live at Hard Rock Casino – Las Vegas es el nuevo disco en directo de los reformados Guns N' Roses, previamente proyectado en los cines, filmado en vivo en The Joint en el Hard Rock Casino en Las Vegas el 21 de noviembre de 2012, durante Appetite for Democracy tour en la celebración de los 25 años de Appetite for Destruction y 4 años de Chinese Democracy.
No encontramos ante un estupendo documento de la actual encarnación de Guns N' Roses liderada magistralmente por Axl Rose. Cierto es que no son los originales, y con ello se ha perdido la visceralidad de antaño, pero ahora Guns N' Roses se ha convertido en lo que Axl Rose siempre soñó: una banda de masas que ejecuta a la perfección una serie de composiciones y versiones intachables. Ahora están más cercanos a Queen o a la ELO que nunca. En este Blu-Ray/DVD & Doble CD encontrarás todos sus grandes éxitos impresionantemente ejecutados a 3 guitarras (Dj Ashba, Richard Fortus & Bumblefoot) como "Welcome to the Jungle", "Sweet Child O'Mine", "Paradise City", "Patience", "Nightrain", "You Could Be Mine", "Civil War", "Estranged", "November Rain", mezclados con sus clásicas versiones de "Live and Let Die" de McCartney o el "Knocking on Heaven's Door" de Bob Dylan.
La única pega quizás sea la voz de Axl Rose, que no brilla con toda la intensidad requerida en todo el show, abusando demasiado del falsete, pero aún así, el que tuvo retuvo. Asimismo este trabajo, incluye unos pocos temas del último álbum que bien merecen quedar como clásicos como la maravillosa balada "This I Love" (posiblemente la mejor canción lenta compuesta por Rose), "Street of Dreams", "Better" o la misma "Chinese Democracy" que abre el concierto. Strippers, rock & roll, un concierto grabado con todo lujo de detalles, sonido excelente (nada que ver con ese bluff de los UYI in Tokyo). Un gran aperitivo mientras esperamos su nuevo álbum, que con suerte podría ver la luz este 2015 o bien en 2016 a más tardar.
Tracklist:
1. Chinese Democracy
2. Welcome to the Jungle
3. It's So Easy
4. Mr. Brownstone
5. Estranged
6. Rocket Queen
7. Solo de guitarra de Richard Fortus (Blacklight Jesus of Transylvania)
8. Live and Let Die (de Wings)
9. This I Love
10. Better
11. Motivation (con Tommy Stinson como voz principal)
12. Solo de piano de Dizzy Reed (No quarter de Led Zeppelin)
13. Catcher in the Rye
14. Street of Dreams
15. You Could Be Mine
16. Solo de guitarra de DJ Ashba (Ballad of death)
17. Sweet Child O'Mine
18. Another Brick in the Wall Part 2 (de Pink Floyd, con Axl al piano)
19. November Rain
20. Objectify (con Bumblefoot como voz principal)
21. Don't Cry
22. Civil War
23. Jam
24. The Seeker" (de The Who)
25. Knockin' on Heaven's Door (de Bob Dylan)
26. Jam
27. Nightrain
Bis:
28. Don't Let It Bring You Down (de Neil Young)
29. Used to Love Her
30. Jam
31. Patience
32. Jam
33. Paradise City
Andrés Brotons